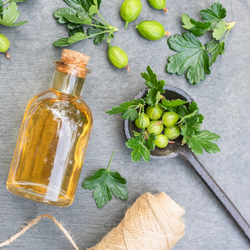 Lab Privé
Amla Berry Scalp Detox
Our scalp blend is potently made to help achieve a healthier scalp & hair. High in vitamin c, Amla Berry oil is said to stimulate hair growth, prevent hair loss and premature graying. Traditional Indian Remedy has been used for decades for its highly beneficial qualities.
Ingredients: Amla Berry Oil, Argan Oil, Sweet Almond Oil, Rose-hip Oil, Vitamin E, Rosemary Essential Oil, Rosemary Antioxidants, Lime Essential Oil, Calamus Essential Oil, Peppermint Essential Oil, Ylang Ylang Essential oil. 
Directions: Part hair into small sections, apply 3-4 drops to each section and massage through scalp. Can be left overnight or rinsed thoroughly with a shampoo. 

Please use with care; Although these products are made with 100% pure plant based ingredients, it is always wise when trying a new product to test on a small area before using, If irritation develops, discontinue use. Keep products out of your eyes, and please read ingredients carefully if you have allergies. 

*These statements have not been evaluated by the food and drug administration. This product is not intended to diagnose, cure, treat or prevent any disease.