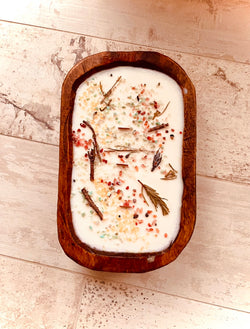 Lab Privé
Dough Bowl Soy Candle | Topped with crystals
Natural blend of soy wax, premium high quality essential oils, and topped with healing crystals. Each dough bowl candle is hand carved and inspected for high quality assurance. These unique candles will range between two and three wooden wicks depending on width of bowl.

Our beautiful dough bowl can be used when candle is done. Simply place it in the freezer for an hour and then the remaining wax will chip right out. 
Blend:
Oakwood, Balsam Fir, Rose, Lavender, Copaiba, Peach, and strawberry.